---
Update on Sunset Beach Streetscape Project
Posted On Thursday, October 31, 2013
---
After about three weeks of work, utility prep work, landscape cutouts, and sidewalks are in on the east side of Sunset Blvd on the island. Here are some photos as of the end of October: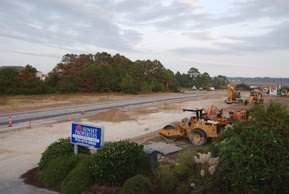 You'll see it is a bit tough to reach the
Sunset Properties
office on Sunset Beach right now due to the construction work-a path has been left open from the Sunset Vacations office close to North Shore and Sunset Blvd-if you need to reach us in the next week or so, be aware of the change in traffic patterns.
Work has begun on the west side of the road this week, where a bike and walking trail will be added. We'll keep you posted with more updates every couple of weeks!
Comment on this post!