Sunset Beach Dog Friendly Home Information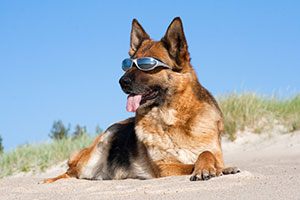 Want to come to the beach, but don't want to leave your dog(s) behind? We have a good selection of vacation homes that will allow guests to bring their pets with them. We have several reasonably priced homes that are dog friendly, at different locations on the island.
Sunset Beach Dog Friendly Homes
Dog Friendly Terms & Conditions

Dog - friendly homes require a non-refundable fee when guests bring a dog, which will be added to the rental charge. There is an allowed maximum of two dogs totaling 150 pounds per rental home.
Each guest is responsible for any and all damages to the premises caused by their dog, including, but not limited to: urine, chewing, scratching or destruction of property.
Each guest must pick up after their dog at all times in all locations on the island. NO EXCEPTIONS-IT'S THE LAW.
Excessive barking is prohibited. If your dog has separation anxiety, do not leave him/her in the home alone. Guests found in violation of this regulation will be fined and/or be asked to leave, forfeiting any remaining rental nights. Please be conscious of your neighbors, many of whom reside permanently.
Dogs must be even-tempered, well behaved, sociable, and in good health. If your dog is anxious, aggressive, or likely to be highly stressed, it is probably in their best interest to make alternative plans.
All dogs are required to use flea prevention such as Frontline or Advantage.
Please be sure to clean and vacuum regularly during your stay.
We wish you and your dogs a happy and safe vacation on Sunset Beach!
Town Of Sunset Beach
Please be aware of the town ordinances concerning dogs. The town of Sunset Beach has jurisdiction on our island and the following rules apply. For a complete listing of town ordinances please see www.sunsetbeachnc.gov
Note: Below is a paraphrase of the town ordinance.
Please leash your dog at all times. Between Memorial Day to Labor Day, dogs are not allowed on the beach from 8am through 6pm. For health and safety issues you must remove any feces and deposit in trash receptacles from all locations on the beach strand and island.
When you bring your dog to Sunset Beach please remember the following:
We have a lot of traffic during the summer. Dogs off leash are at risk of being hit by cars and are in violation of leash laws. Keep your dog on a leash at all times.
Beach sand and pavement become very hot during the summer.If you cannot walk on the sand or pavement in your bare feet your dog will be uncomfortable also.
In case of an emergency any of our local veterinary hospitals may assist during normal business hours. At night or after hours emergency service may be limited. Please keep this in mind if your dog is ill or has a chronic disease. Local veterinary hospitals: VCA Seaside Animal Hospital in Calabash, or Ocean Isle Veterinary Hospital in Ocean Isle Beach. For after hours emergency service: Animal Emergency Hospital of the Strand in Myrtle Beach, SC.