Meet The Staff of Sunset Properties
We welcome you to the beach!
Eddie Walters - Managing Partner & Sales Broker
Eddie Walters owned a local brokerage and property management firm for 30 years prior to becoming the managing partner at Sunset Properties. Since January 2014, Eddie has enjoyed the new challenges of vacation rental management and the opportunity of meeting so many of our homeowners and longtime guests.
First Job:

Busboy at Twin Lakes Seafood when he was 13

Favorite Movie:

The Matrix

Desired Superpower:

The ability to fly; more like a bird than Superman

Favorite Food:

Shrimp prepared any way possible

Favorite Song:

"Morning Yearning" - Ben Harper

Sunset Properties Start Date:

January 2014
Carol Walters - Accounting
First Job:

Hostess at Haley's Restaurant in Calabash

Favorite Movie:

The Sound of Music

Random Fun Fact About Carol:

Once had a conversation with Faye Dunaway. Really less of a conversation than Faye saying "excuse me" as she cut in line in front of Carol at a bookshop. But that counts, right?

Desired Superpower:

Time Travel

Favorite Food:

Fried Okra

Favorite Song:

"Midnight in Harlem" - Tedeschi Trucks Band

Sunset Properties Start Date:

August, 2014
Ashley Chambley - Reservations Manager
First Job:

To-go window at Sharky's on OIB

Favorite Movie:

Across the Universe

Random Fun Fact About Ashley:

Ashley lived in Japan for 7 years.

Desired Superpower:

Teleportation

Favorite Food:

French fries

Favorite Song:

"Swing Life Away" - Rise Against

Sunset Properties Start Date:

August, 2009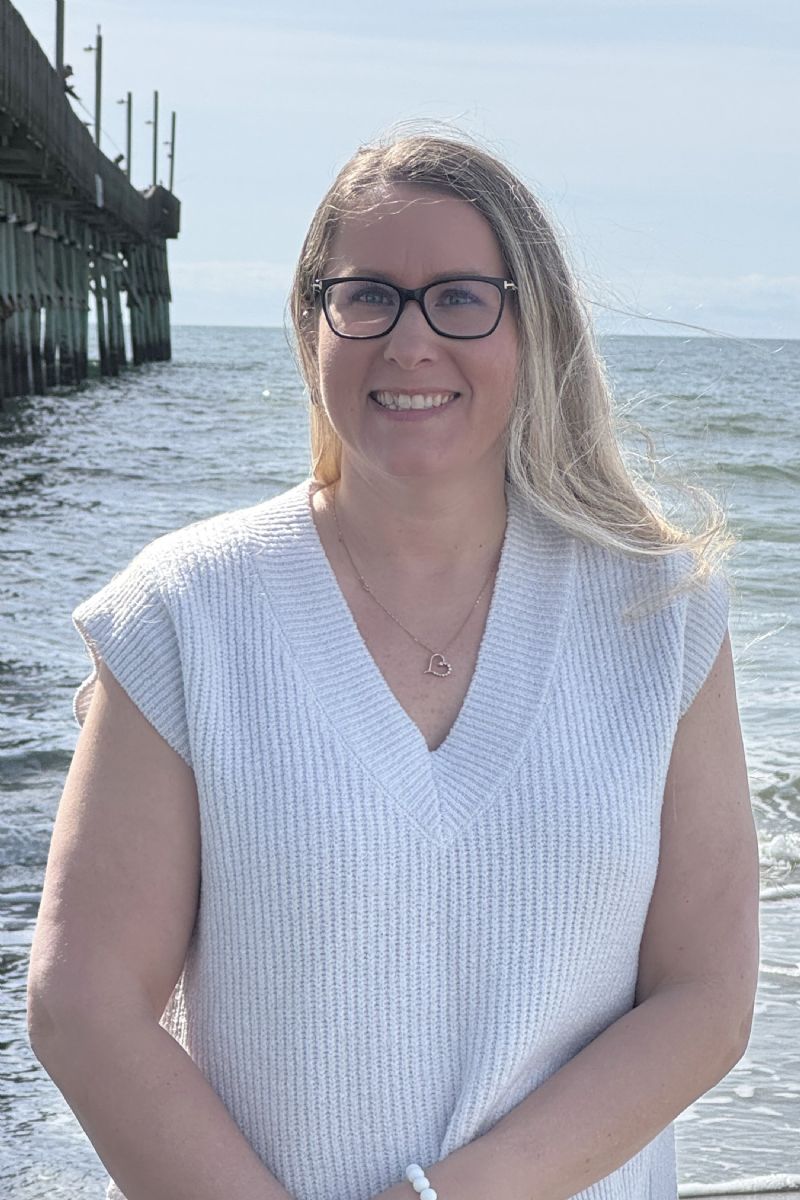 Pam Ducommun- Housekeeping Manager
First Job:

Shoprite - Grocery Store

Favorite TV Show:

Grey's Anatomy

Random Fun Fact About Pam:

Pam played soccer growing up.

Desired Superpower:

Mind Control

Favorite Food:

Pizza

Favorite Song:

"One Hell of an Amen" - Brantley Gilbert

Sunset Properties Start Date:

September, 2012
Renee Meir - Maintenance Coordinator & Housekeeping
First Job:

Dairy Queen

Favorite Movie:

Sleepless in Seattle

Random Fun Fact About Renee:

Renee is a certified scuba diver.

Desired Superpower:

Mind Reader

Favorite Food:

Seafood of any kind

Favorite Song:

"Humble & Kind" - Tim McGraw

Sunset Properties Start Date:

January, 2019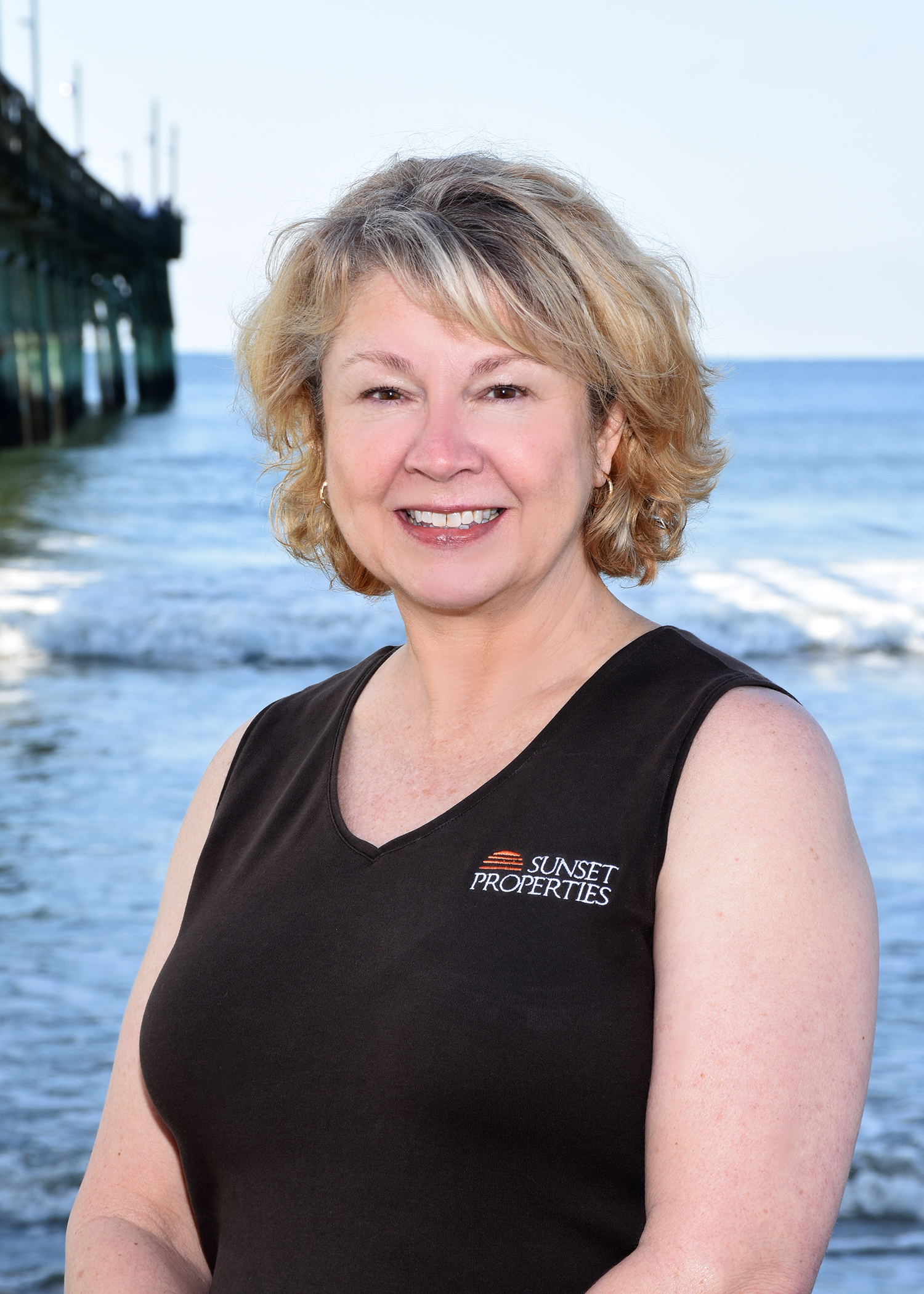 Elaine Nelson-Annual Rentals-Reservations
First Job:

Cashier at Pic N Save in Atlantic Beach, FL

Favorite Movie:

The Notebook

Random Fun Fact About Elaine:

Elaine loves to cook and thinks it's a great way to show love.

Desired Superpower:

Healing

Favorite Food:

Any seafood, except shark

Favorite Song:

She loves most all genres, but currently it's "Hello" by Adele

Sunset Properties Start Date:

December, 2015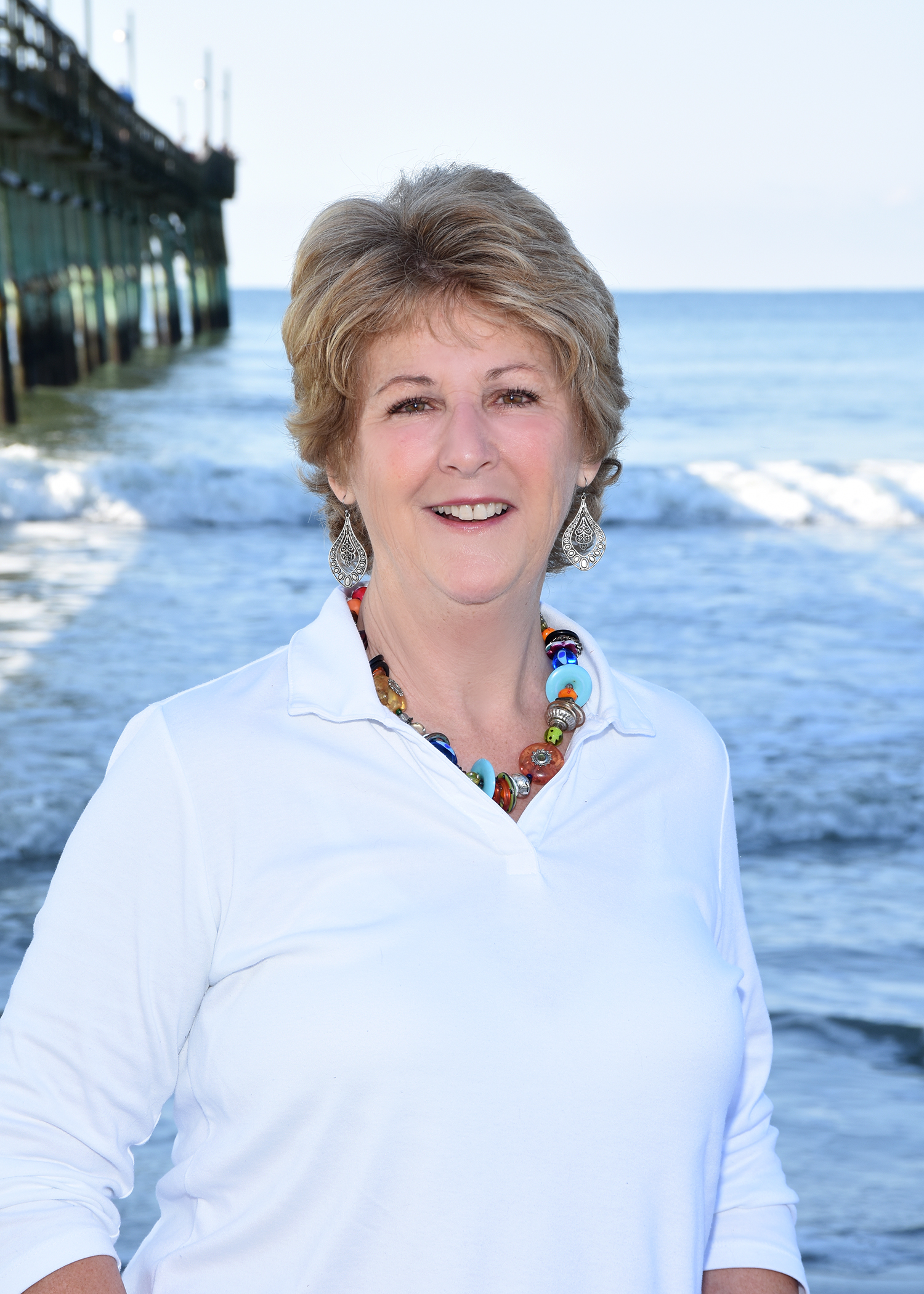 Peggy McGuinness - Annual Rentals & Vacation Rentals
First Job:

Bradlees Department Store

Favorite Movie:

Gone with the Wind

Random Fun Fact About Peggy:

Peggy was the first female supervisor in her UPS district in 1976.

Desired Superpower:

Flying, so she could visit her grand-babies and family more often!

Favorite Food:

Ice cream

Favorite Song:

For a child of the '60s and '70s, Peggy feels this is an impossible question.

Sunset Properties Start Date:

January 2014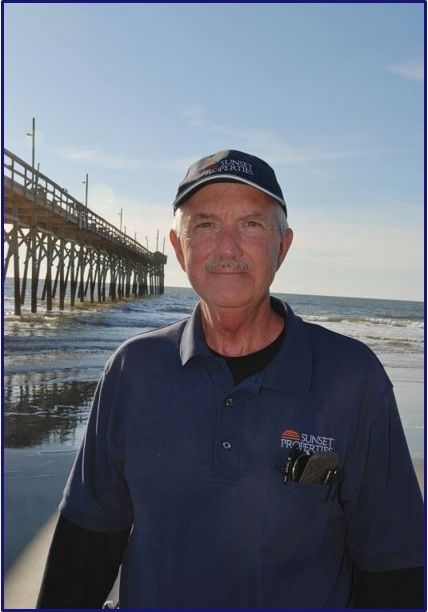 Tom Seletyn - Maintenance
First Job:

Warehouse worker for a catalog store

Favorite Movie:

Tombstone

Random Fun Fact About Tom:

Tom relocated here from West Virginia.

Desired Superpower:

Teleportation

Favorite Food:

BBQ

Favorite Song:

There's way too many to choose just one

Sunset Properties Start Date:

April 2018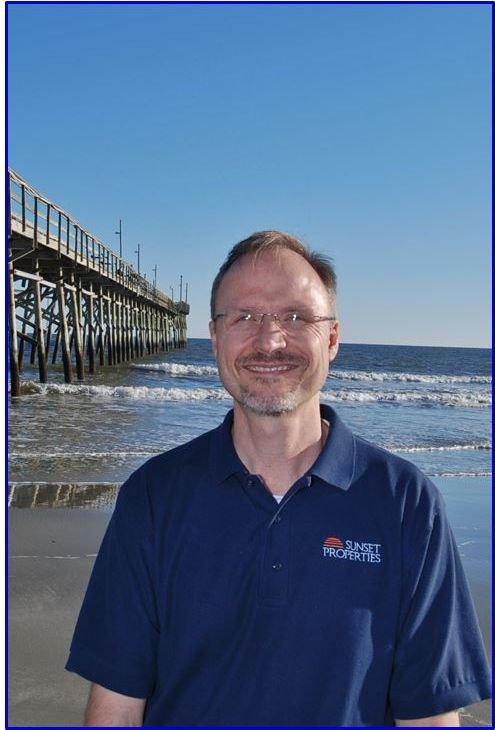 Sev Severtson - Maintenance
First Job:

Newspaper carrier

Favorite Movie:

Raiders of the Lost Ark

Random Fun Fact About Sev:

Sev loves aquariums!

Desired Superpower:

To read people's minds

Favorite Food:

Indian food

Favorite Song:

"Don't Worry Be Happy" - Bobby McFerrin

Sunset Properties Start Date:

August, 2017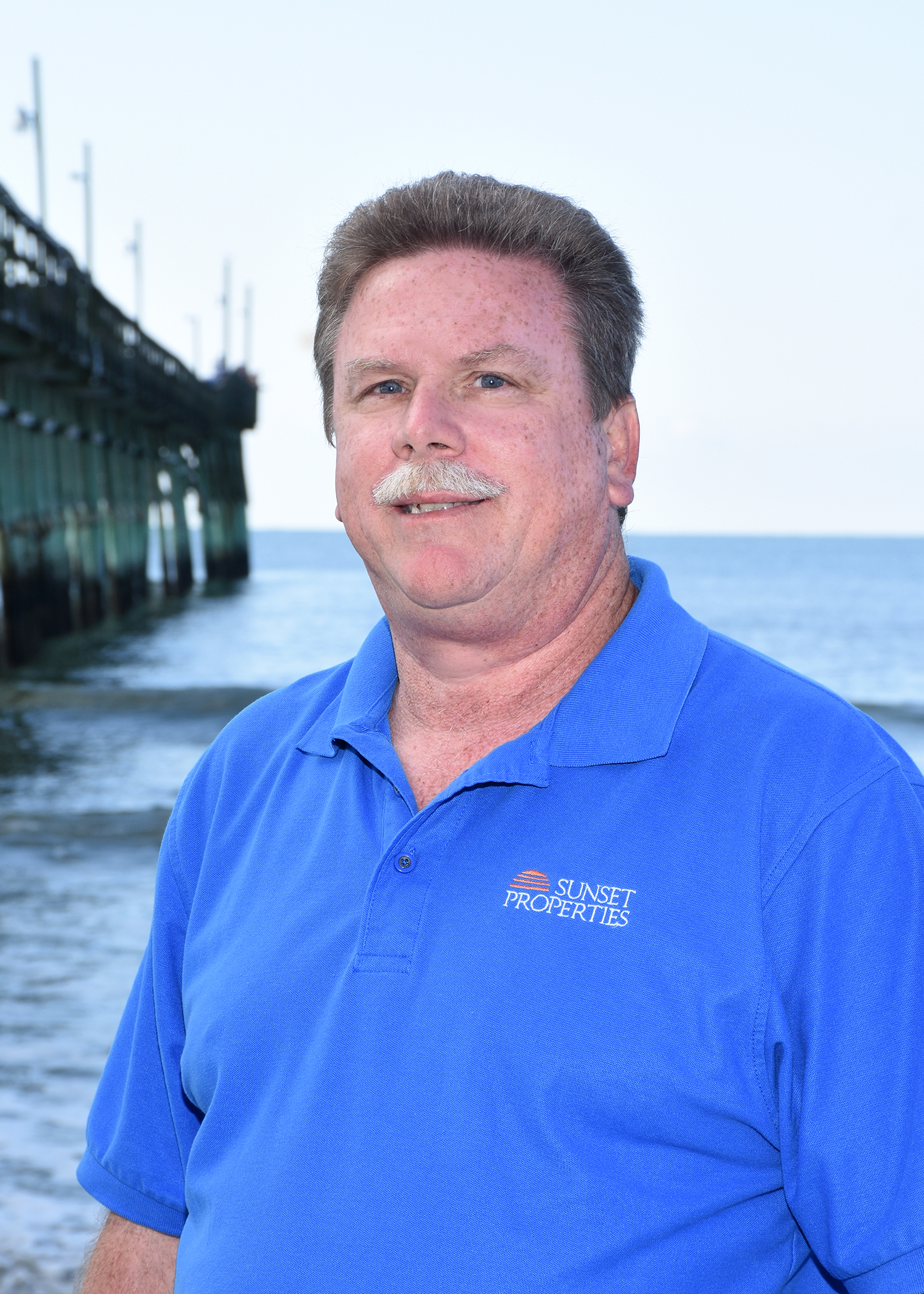 Randy Walters- Vacation Rental Manager
First Job:

Cleaning a community swimming pool

Favorite Movie:

War Room

Random Fun Fact About Randy:

In his early teens, Randy helped his Dad shrimp the Intra Coastal Water Way behind Sunset Beach. It was not unusual for them to catch 200-300lbs of shrimp from dawn to noon!

Desired Superpower:

Abilities of Superman

Favorite Food:

Any kind of pasta or pizza

Favorite Song:

"In Christ Alone"

Sunset Properties Start Date:

August, 2015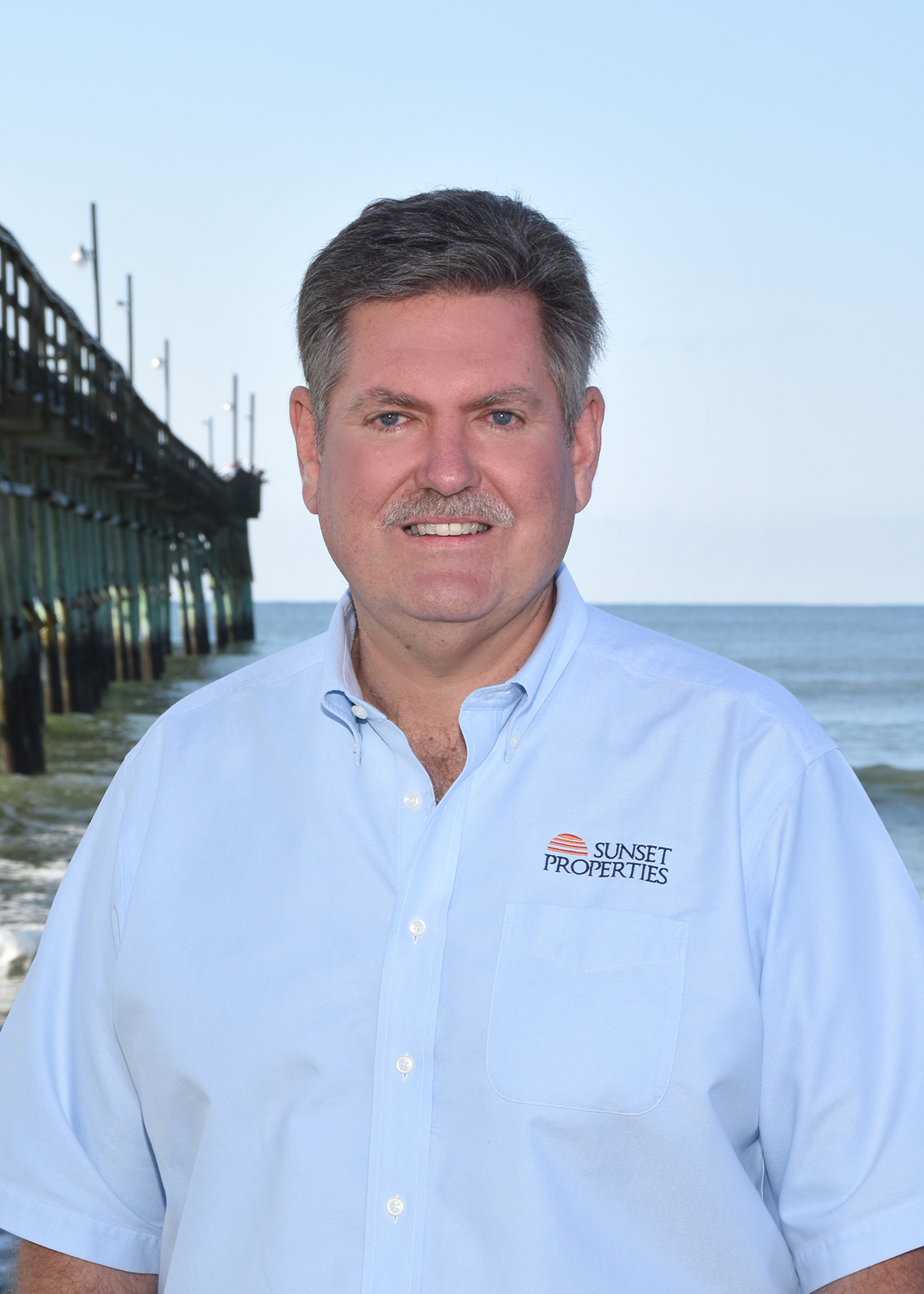 Al Ward-Vacation Rental Manager
First Job:

Farming Tobacco

Favorite Movie:

Any John Wayne movie

Random Fun Fact About Al:

Al is a huge UNC Tarheels fan

Desired Superpower:

Flying

Favorite Food:

Shrimp

Sunset Properties Start Date:

January, 2013