Sunset Beach Golf Course Information
One of the joys of a Sunset Beach vacation is that your family doesn't have to choose between the beach or the golf course-they can have both! With so many good golf courses that are priced reasonably in close proximity to Sunset Beach, you'll keep everyone happy when you stay with Sunset Properties.
Planning a golf vacation for the Sunset Beach area? Instead of staying at a golf course condo, why not opt for the best of both worlds-stay at a condo or home on the island, and play at one of the many championship courses within an easy drive of the island. Then you'll get to relax at a comfortable home and walk the beach after your golfing day ends.
The Sunset Villas are modern 2 bedrooms, 2 bath condos near the middle of our island-the perfect size for one or two couples on a golfing vacation. You can find the units in our rental search - just enter the dates that you are coming, select the number of bedrooms you need, and our search engine will let you know what's available then. If your group will be larger, we offer homes from 3 to 4 bedrooms all the way up to 8 bedrooms (when you rent both sides of an oceanfront duplex).
If you're looking for golfing challenges, we've got them for you in our backyard! There are over 30 golf courses available for play within a short distance of Sunset Beach and Brunswick County. If you're adventuresome and want to head to either Myrtle Beach or Wilmington during your stay here, the number rises over 100. Listed below are some of the area courses - feel free to visit their websites or call them directly for tee times and applicable rates.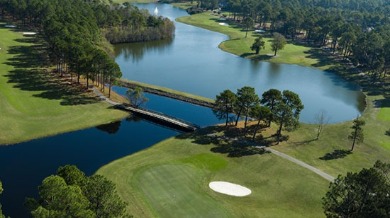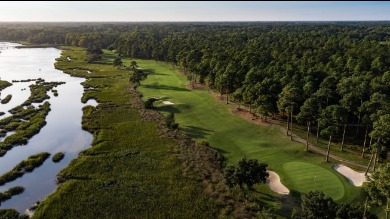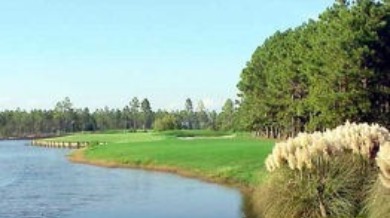 Location: Southport
Course Rating: 74.2
910-457-7310
1 hour from Sunset Beach Bridge
Golf Digest 4 Star - reach by boat ferry
Location: CalabashCourse Rating: 71.1
800-848-0290
15 minutes from Sunset Beach Bridge
27 holes; designed by W. Byrd
Location: Bolivia
Course Rating: 72.5
910-755-5200
20 minutes from Sunset Beach Bridge
designed by Fred Couples
Location: Carolina Shores
Course Rating: 72.6
910-579-2181
15 minutes from Sunset Beach Bridge
designed by Tom Jackson
Location: Hickman's Crossing
Course Rating: 72.3
910-287-3081
20 minutes from Sunset Beach Bridge
designed by Rick Robbins
Location: Hickman's Crossing
Course Rating: 69.1
910-575-7999
20 minutes from Sunset Beach Bridge
Par 6 18 hole
Location: Little River
Course Rating: 73.2
800-868-4536
15 minutes from Sunset Beach Bridge
located on SC Intercoastal
Location: Holden Beach
Course Rating: 73.8
877-562-9663
40 minutes from Sunset Beach Bridge
designed by W. Byrd on Lockwood River
Location: Leland
910-383-0999
45 minutes from Sunset Beach Bridge
PGA local qualifying tourney held here
Location: Sunset Beach
910-287-1717
10 minutes from Sunset Beach Bridge
4 courses to choose from
Tiger's Eye Golf Links


Course Rating: 68.1
Opened in 2000

Panther's Run


Course Rating: 68.1
designed by Tim Cate

Lion's Paw


Course Rating: 71.6
designed by W. Byrd

Leopard's Chase


Course Rating: 72.1
designed by Tim Cate
Location: Sunset Beach
Course Rating: 71.6
800-552-2660
5 minutes from Sunset Beach Bridge
Golf Digest Top 50
Location: Sunset Beach
Course Rating: 69.5
910-579-8132
10 minutes from Sunset Beach
27 holes: 3 - 9s
Location: Shallotte
Course Rating: 71.8
910-755-3434
20 minutes from Sunset Beach Bridge
Arnold Palmer design
Location: Sunset Beach
Course Rating: 71.6
910-579-9120
10 minutes from Sunset Beach Bridge
designed by Dan Maples
Location: Sunset Beach
910-287-1100
5 minutes from Sunset Beach Bridge
3 courses; 2 clubhouses
Maples


Course Rating: 72.4
designed by Dan Maples

Jones


Course Rating: 72.4
designed by Rees Jones

Byrd


Course Rating: 70.3
designed by Willard Byrd
Location: Calabash
Course Rating: 69.8
910-575-8700
10 minutes from Sunset Beach Bridge
27 holes