---
Make Your Valentine's Day Plans Today!
Posted On Thursday, February 1, 2018
---
With Valentine's Day quickly approaching, what could be a better way to celebrate than being at one of the most romantic beaches on the Carolina coast? Sunset Beach offers plenty of activities, local dining, and scenery for not only Valentine's Day but every other day of the year. If you're looking to experience a peaceful, romantic getaway, Sunset Beach is the perfect place.
The most important aspect is finding the perfect place for you and your significant other to stay. Sunset Properties offers a wide variety of rental properties on both Sunset and Ocean Isle Beach. Additionally, many of our homes offer two or three-night minimums if you're planning on abriefgetaway. To find your perfect rental property, you can visit our website to search for a home to meet all your needs.
The Sunset Beach area is full of unique romantic activities. Here are a few local activities that are great for couples:
Kindred Spirit Mailbox
This timeless, local treasure can be found on Bird Island, located just off the west-end of Sunset Beach. For decades, this mailbox has been a destination for people to leave heartfelt notes about their thoughts, hopes, and dreams within the mailbox's journals. The Kindred Spirit can be easily accessed by foot or bike and is joined with a bench where you can sit and enjoy the scenery of the ocean.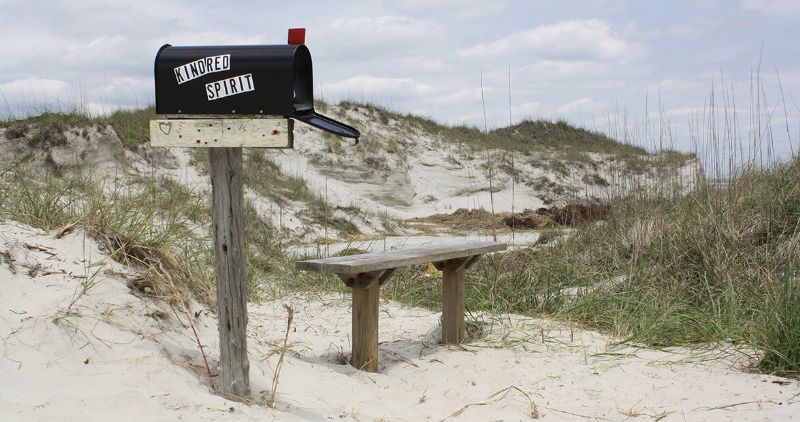 Silver Coast Winery
Silver Coast Winery is the perfect place for couples. Located just 15 minutes from Sunset Beach, this local award-winning winery allows you and your significant other to enjoy wine tastings, an art gallery featuring local artists, and a beautiful garden. You can check out their website here for more information.
Hitting the Greens
The Brunswick Islands are known for their numerous pristine golf courses. With over 30 within the Brunswick County area alone, there's plenty of courses to choose from for a fun, competitive couples activity. To discover which golf course may be best for you, check out this page on our website for all the information you need on our local golf courses.
Unforgettable Dining
The Sunset Beach area offers excellent dining options for your Valentine's Day dinner. Most of which, present fantastic views. Take a look at this page on our website, which gives information along with possible discounts to a couple of highly recommended restaurants in the area. Some local restaurants also offer dinner specials exclusively for Valentine's Day. Among them is Jinks Creek Waterfront Grille located on Ocean Isle Beach. They have created a menu just for Valentine's Day which will be offered February 14th-17th. Their limited-time menu can be viewed below. Be sure to check out their website which features their regular menu as well.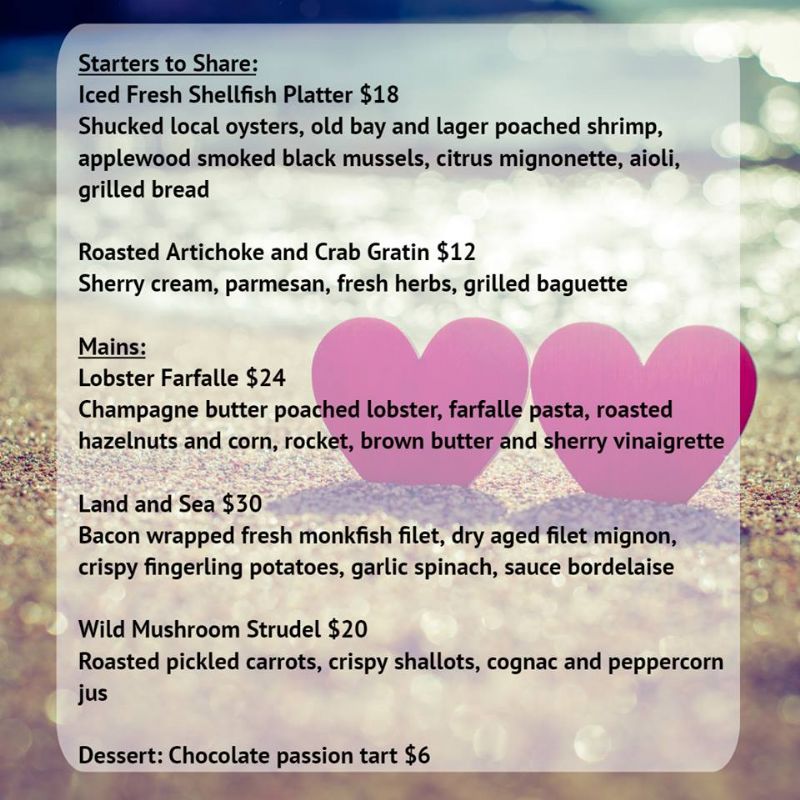 Don't hesitate to start planning your perfect Valentine's Day getaway at the beach! If you'd like to reserve a home on Sunset Beach or Ocean Isle, feel free to give us a call at (866) 320-1344 and one of our experienced reservationists will be happy to assist you in finding the right rental property for you. You may also visit our website: www.sunsetproperties.travel
Comment on this post!